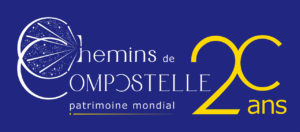 20th anniversary of UNESCO inscription
of the Routes of Santiago de Compostela in France
    In 1998, UNESCO inscribed the Cultural Property "Routes of Santiago de Compostela in France" on the World Heritage List. On the occasion of the XXth Anniversary of this inscription, the Ministry of Culture, guarantor of the management and the valorization of the Good in front of the international community, and Acir Compostelle, head of network of the Good, wished, in consultation with communities owning the components of the property, to discover its rich heritage. More than a hundred events will take place in many of the components of the property, some of which have been awarded the "Compostela World Heritage 20 years" label. Conferences and study days in several regions, restoration operations and maintenance of small rural heritage, exhibitions, conferences and thematic visits, sensitization workshops for young audiences, concerts, shows will punctuate this year of festivities. The French property is part of the prestigious circle of the 1,073 properties identified by UNESCO in the world. France today has 43.
The Outstanding Universal Value of Good 868
   "Throughout the Middle Ages, Santiago de Compostela was a major destination for countless pilgrims from all over Europe. To reach Spain, pilgrims crossed France. Four symbolic routes starting from Paris, Vézelay, Puy and Arles and leading to the crossing of the Pyrenees summarize the innumerable routes taken by travelers. Pilgrimage churches or simple sanctuaries, hospitals, bridges, crossroads mark these paths and bear witness to the spiritual and material aspects of the pilgrimage. Spiritual exercise and manifestation of faith, the pilgrimage also touched the profane world by playing a decisive role in the birth and circulation of ideas and arts. "
Website : www.cheminscompostelle-patrimoinemondial.fr
On the agenda of the Festival du Comminges in 2018 :
Concerts :
Wednesday, July 25, 8:30 pm, Les Chantres du Thoronet, Damien Poisblaud
Friday August 3, 8:30 pm, Chœur Antiphona, Jean-Patrice Brosse
Academy :
Monday, July 30 to Saturday, August 4, 6 pm and Sunday, August 5, 5 pm, Rolandas Muleika Academy, dedicated to the antiphonaries of the Saint-Bertrand-de-Comminges cathedral and to the jacquaires chants
Conferences in partnership with the association Les Amis de Saint-Jacques, ACIR Compostelle and with the assistance of the CMN (Center of National Monuments) :
Wednesday, July 25, 5:30 pm, Gisèle Clément, lecturer in musicology
Guilhem, epic and holy hero, on the Camino de Santiago
Friday, August 3, 5:30 pm, Xavier Bailly, administrator of the Abbey of Mont-Saint-Michel at the National Monuments Center
Sharing the universal value of a World Heritage property with the public
Thursday, August 9, 5:30 pm, René Souriac, honorary professor of the Universities
Renaissance choir of the Sainte-Marie cathedral of Saint-Bertrand-de-Comminges, theological education of pilgrims in the 16th century