Route of the old churches of Comminges
From Monday, July 22 to Saturday, August 3.
The Pyrenean valleys contain a considerable heritage of buildings dating from the first years after the year 1000, usually built on ancient Roman sites, and subsequently maintained, enlarged, sometimes adorned with touching frescoes or rich altarpieces along the Middle Ages, the Renaissance and the Baroque period. Thus the historic Comminges, including Couserans and Val d'Aran, has up to seventy ancient sanctuaries of great heritage value. But to consider only the works of this distant time would be reductive: the architecture of the nineteenth century has often imitated and created equally valuable buildings, which adorn our villages today Pyrenean. The Comminges Festival, whose jewels that are Saint-Bertrand and Saint-Just remain the privileged home port, had to make resound these ancestral vaults whose beauty and architectural science are worthy of admiration. The Academie of the Festival present their works every day in a different place steeped in history.
European vocal ensembles
Christian Nadalet – July 22 to July 28

This session is intended for both amateur singers who want to explore these repertoires and more experienced singers wishing to deepen their knowledge of vocal practices.
Free entrance, 6pm, Comminges churches
July 22, Cierp-Gaud
July 23, Centre Pierre Hanzel, Rieux-Volvestre
July 24, Ore
July 25, Saint-Pé-d'Ardet
July 26, Saint-Béat
The closing  Academy concerts will be part of the Festival du Comminges programme on Churches of the Canton of Saint-Bertrand de Comminges :
Saturday, July 27
5 pm, Church, Burgalays
ACADEMY CHRISTIAN NADALET 
Guerrero, Victoria, Lotti, Palestrina, Rossini, Schubert, Holst
Sunday, July 28
5 pm, Church, Aulon
ACADEMY CHRISTIAN NADALET 
Guerrero, Victoria, Lotti, Palestrina, Rossini, Schubert, Holst
Saint-Gaudens Area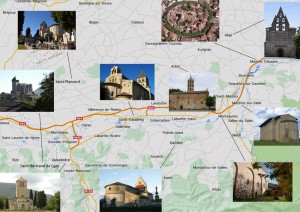 Church Notre-Dame-de-la-Nativité d'Alan
Church Notre-Dame d'Aulon
Church Saint-Sébastien de Ganties
Church Saint-Adrien de l'Isle-en-Dodon
Church Saint-Vidian de Martres-Tolosane
Church Sainte-Matrone de Mazères
Church Saint-Christophe de Montsaunès
Cathedral Sainte-Marie de Saint-Bertrand de Comminges
Collegiate Saint-Pierre de Saint-Gaudens
Chapel Saint-Jean-des-Vignes de Saint-Plancard
Church Saint-Just et Saint-Pasteur de Valcabrère
Saint-Beat Area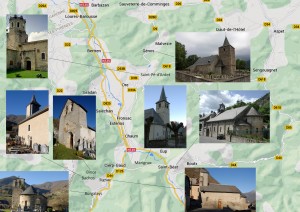 Church Saint-Geniès de Bachos
Church Saint-Laurent de Binos
Chapel Saint-André de Burgalays
Church Saint-Roch de Génos
Church Sainte-Marie de Marignac
Church Saint-Béat Saint-Privat de Saint-Béat
Church Saint-Pierre de Saint-Pé d'Ardet
Church Saint-Jean-Baptiste de Signac
Luchon Area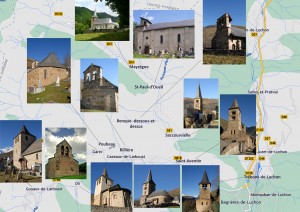 Church Saint-Geniès de Benqué-Dessous
Church Saint-Blaise de Benqué-Dessus
Church de Bernet de Billière
Church Sainte-Anne de Cazeaux-de-Larboust
Chapel Saint-Pierre ou Saint-Pé-de-la-Moraine de Garin
Church Saint-Exupère de Gouaux de Larboust
Chapel Saint-Etienne de Barcugnas de Bagnères de Luchon
Church Saint-Pierre de Mayrègne
Church Saint-Jacques and the Castet Tower d'Oô
Church Saint-Barthélemy de Saccourvielle
Church de Saint-Aventin
Church Saint-Gordien de Saint-Paul d'Oueil
Church Saint-Julien de Trébons
To visit the church of your choice, please click on its name