The Origins
Paul Guilloux, along with friends from Comminges, founded and lead the "Association des Amis de l'Orgue de Saint-Bertrand de Comminges" in 1964. A student of Auguste Fauchard, disciple of Widor, Guilmant, d'Indy and Vierne, he was at the time the titular organist of the Bourges Cathedral and had previously held that position at the Nantes Cathedral. As he got passionate about the instrument in Saint-Bertrand de Comminges over holidays, he had the intention to help restore it with the proceeds from Summer concerts he started organizing there. The press gave very enthusiastic reviews and provided great support to the project but Paul Guilloux sadly died on April 7, 1966 in his house in Saint-Bertrand.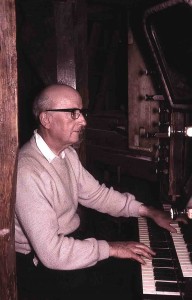 Paul Guilloux
Previously André Malraux, France's first Minister of Cultural Affairs under General de Gaulle (1959-1969), had visited Comminges and attended the funeral of Hippolyte Lioux, father of his acclaimed pianist spouse Madeleine Malraux. A friend of the Lioux family, Pierre Lacroix, a musician and industrialist who also knew the General, organised for Malraux to visit the Cathedral and its organ. And over lunch at the sub-prefecture, Pierre Lacroix committed to at some point creating a festival and an academy when circumstances would allow it.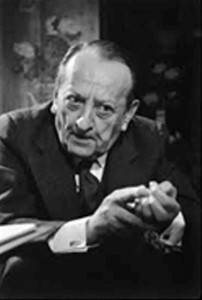 André Malraux
Doctor Paul Duran, recently deceased, took over from Paul Guilloux as an organist and president of the organization up to the election of Louise Safont. Together with her daughter Denise and Saint-Bertrand friends Jean Castex, Jean Ségonzac and Frédéric Ribouleau, she launched the successful production of  two annual summer evenings with organists such as Jean-Jacques Grunenwald, Odile Pierre, Jean Boyer, Roger Saorgin and André Pagenel, the trumpeter Albert Calvayrac, or the singer Maria Bratianu.
In 1973, Jean-Patrice Brosse, a young organ and harpsichord student at the Paris Conservatoire, got invited ahead of a large concert tour in the United States, Canada and all South American countries. A native of Le Mans, where he also organized concerts, and well introduced to the Paris cultural scene, he displayed significant interest in sharing his professional experience should a project materialise.
Jean-Patrice Brosse – Poulenc Concerto with the "Orchestre du Capitole"
Toulouse 1977
An Evolving Ambition
In light of a promising initial encounter with the organisation, a decision was made to launch the project, while the need for a new complete restoration of the historical organ became imperative. Within a year of intensive preparation, Guy Uchan, mayor of Saint-Bertrand and a man of great culture, entrusted the mission to Pierre Lacroix in 1974. The City Council vote was unanimous, and thereafter confirmed by successive City Councils as well as the Musical Department of the Ministry of Culture.
The seventies were also a time of  widespread organ restoration, particularly in the Occitan region under the authoritative influence of the Toulouse organist Xavier Darasse. The leading trend was to restore the instrument in a way which matched its initial state at the time of building. But the 1550 Renaissance organ case, unique in the world, was the only remaining historical part, and dated souvenirs of pipes, mechanical and various other parts testified of over four centuries of transformation. Among the multiple scenarii then discussed were the return to the primitive organ, the golden age Louis XIV style organ, the romantic era organ, or the "play all' organ, a unfortunate synthesis of others.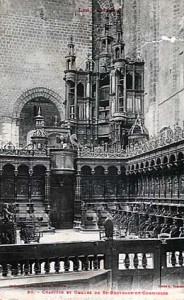 The organ in 1904
Following extensive consultations with experts and leading organists such as Georges Lhôte or Michel Chapuis, the option to restore the instrument with as many historical parts as possible (grand organ and pedal chests, twelve ancient fragmentary registers) was viewed as the most reasonable. It combined the French and German XVIIIth century manufacturing styles as well as enhancements from later periods, an opportune fit for a musical festival with a large repertoire.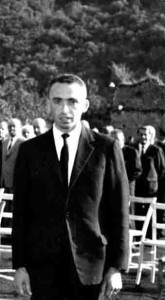 Guy Uchan
In the absence of public subsidies, the Association struggled to support the project financially. Mayor Guy Uchan organised for the financing and Pierre Lacroix provided initial funding. Several influential figures like Henri Sarramon or prefects Pierre Doueil and Yves-Bertrand Burgalat were approached and the organ craftman Jean-Pierre Zwiderski volunteered for his help. A large subscription campaign closed with a 75% success rate and the first restoration tranche was completed by July 10, 1976, the opening day, with organist Pierre Cochereau, of the second season.
Guy Uchan made a very moving speech that evening and promoted Louise and Denise Safont, Jean Castex, future perpetual secretary of the Julien Sacaze Academy, Paul Duran, Pierre Lacroix and Jean-Patrice Brosse to the "Order of External Citizens of Saint-Bertrand" with distinctive bronze medals. Guy Uchan certainly did not imagine at the time his own daughter Marie-Claire would become mayor herself forty years later and ensure the continued support of the festival !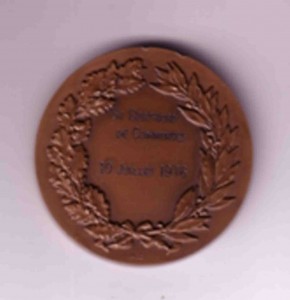 The medal of the 'Order of External Citizens of Saint-Bertrand"
A year earlier, Jean-Patrice Brosse, promoted to the position of artistic director, had launched the first official season of the festival and invited a number of organists, pianists and singers.
Jean-Patrice Brosse and François Lépargneur
pasting posters of the first festival in 1975
The ensuing years were marked by a steady pace of growth with fifteen and soon twenty summer concerts. As Pierre Lacroix became president and the festival increasingly recognised nationally, a significant step was reached in the eighties with the financial support from the France Telecom Foundation and the consistent help from its representative Francis Salvat. The festival was then able to turn to some of the most acclaimed artists in the world, including Teresa Berganza, Christa Ludwig, Victoria de Los Angeles, Gundula Janowitz or Gwyneth Jones, but also Georges Cziffra, Byron Janis, Alexis Weissenberg, Ivry Gitlis or Paul Badura-Skoda.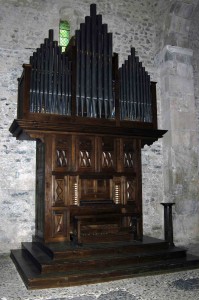 The organ in Saint-Just de Valcabrère
The Festival du Comminges became an important part of the artistic scene with a history of forty years of intense productions, around six hundred concerts and six hundred world class soloists among thousands of musicians. It also turned into a significant contributor to the regional economy due to the increasing number of festival-goers. In addition, the festival created and developed a baroque musical Academy. Hundreds of students from over thirty countries attended and taught back in their respective constituencies a variety of courses: the organ with Michel Chapuis and Andre Stricker, musicology with Jean Saint-Arroman, baroque chant with Denise Dupleix, Paul Esswood and soon Guillemette Laurens, and gregorian chant with Marcel Pérès. The serene cities of Saint-Bertrand and Vacabrère were transformed into beehives in the summer with instruments regularly assaulted. It became urgent to equip the Saint-Just Basilica with an organ and Gerhard Grenzig was selected for its German esthetics style manufacturing.
 The organ in the Valcabrère Church
The Valcabrère Church already had its own wonderful small organ, as did the Saint-Julien Chapel with, in addition, an Italian instrument and a harpsichord.
The Hughes Rateau harpsichord
The restoration of the grand organ in the Cathedral was completed by 1985 and numerous proprietary recordings were distributed in over thirty countries. Also boosting the international reputation of the instrument and of Saint-Bertrand de Comminges was the creation of a local college of professional organists including Elisabeth Amalric and Gilbert Vergé-Borderolle. Several other neighboring cities then volunteered to host concert evenings, like Martres-Tolosane with mayor Carole Delga. The festival gradually spread across the whole Comminges territory from Muret in the North to Luchon and even Vielha in the South.
While ancient, romantic and contemporary music were at the heart of programming, creations and world premieres on the organ of Saint-Bertrand de Comminges drew some of the greatest composers of our time, including Guillou, Langlais, Sauguet, Damase, Françaix, Castérède, Chaynes, Chailley, d'Ormesson, Landowski, Escaich, Beffa, Campo and many others. A number of those commissions were recorded and edited. In addition, Pierre Lacroix privately founded a biennial composition competition as part of the concert season, which rewarded many laureates and allowed tens of creations, also written for the organ of Saint-Bertrand.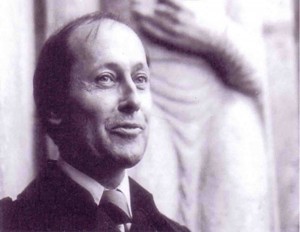 Pierre Lacroix
Pierre Lacroix, Founder
A native of Paris,  Pierre Lacroix spent his childhood in the South West of France where his family resided. He received his primary education in Mazères-sur-Salat and his secondary education at the Ecole des Roches. He then engaged in a scientific curriculum and studied mathematics and physics at the Lémania Technology Institute in Lausanne, before joining the Ecole Supérieure de Physique et Chimie in Toulouse.
Close to the family company manufacturing Riz La +, specialised in cigarette paper and bible paper, Pierre Lacroix founded in Mazères the Steel company, manufacturing electronic automatic devices for hydraulic and aeronautical industries. His lifelong passion for music and perfecting his piano playing technique remained at the same time well alive, with a focus on concentration, detente and sound color. His musical studies might have been difficult at times but, as an introvert, he found in improvisation and individual creation the ideal mode of expression for his talent. Marguerite Long, whom Pierre Lacroix studied with, was very aware of the uniqueness of his personality and encouraged him on this unusual path. He also studied harmony with Maurice Duruflé and composition with Nadia Boulanger within the American School of Fontainebleau. A number of recorded random improvisations were recently edited in the form of a triple album.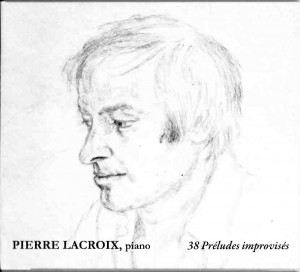 38 improvised preludes on the piano by Pierre Lacroix
Pierre Lacroix' childhood was immersed in a very prolific cultural environment. His father's side was marked by society life and the management of the paper company dating back to the Consulate years,  as well as other impressive figures such as his paternal grandmother Lucie, a remarkable opera singer said to compete with Paris Opera's Lily Pons. But it was his mother's side which instilled in him the taste for originality and the acquisition of knowledge. His mother Fernande Lacroix was an eminent war resistant and a friend of General de Gaulle. His maternal grandmother Jehanne Prat organised Proust style evenings, narrated in Le Figaro, in Pavillon des Muses, boulevard Maillot, a Paris residence she had purchased from Robert de Montesquiou and which was regularly visited by André Gide, Tristan Bernard and Jacques Hébertot. Her brother Maurice Leblanc was the writing author of Arsène Lupin and her sister Georgette Leblanc was a tragedienne, an opera singer and a movie star under the direction of Marcel L'Herbier. Georgette Leblanc was also the creator of Pelléas and Mélisande by Maurice Maeterlinck, with whom she was living between her abbey in Saint-Wandrille, her Nice and Paris houses, and later her castle in Tancarville.
Due to the relentless commitment from its Founder and President over more than 35 years, the Festival du Comminges became vividly supported by eminent figures who also enjoyed staying at his Beauvoir estate as friends: in the musical world Aldo Ciccolini, Marie-Claire Alain, Alfred Brendel, Byron Janis, Gustav Leonhardt, Rafael Puyana, Georges Cziffra, Nikita Magaloff, Teresa Berganza, Victoria de Los Angeles, Sviatoslav Richter or Mstislav Rostropovich; in the intellectual world Jean-Pierre Changeux, Georges Duby, André Lebeau, Pierre Emmanuel, Jean Favier, Emmanuel de Margerie, Joseph Ratzinger, Marguerite Yourcenar, Jacqueline de Romilly, Jean d'Ormesson, Maurice Druon, Simone Veil, Pierre Rosenberg; and also Alice Sapritch or the Danish royal family.
Honorary President of the Festival, Pierre Lacroix also holds the following French distinctions today: "Chevalier de l'Ordre de la Légion d'Honneur", "Grand Officier du Mérite National", "Officier des Palmes Académiques" and "Grand Croix du Mérite et Dévouement Français".
The Future of the Festival
The Festival du Comminges has become an integral part of the international cultural scene over the past forty years.
Supported by the State, the Region, the "Département" and the "Communauté des Communes", it also receives  precious logistical and financial help from municipalities hosting concerts: Saint-Bertrand, Valcabrère, Saint-Gaudens, Martres-Tolosane, Luchon and L'Isle-en-Dodon. In addition, La Dépêche du Midi and the piano company Parisot are efficient corporate partners.
At this pivotal time, the festival remains of course loyal to its classical identity but also opens up to new musical modes and audiences. It will concomitantly highlight the unique regional architectural heritage with festive local concerts in the Comminges romanesque churches of Montsaunès, Aulon, Ganties, Génos, Saint-Pré-d'Ardet, Saint-Béat, Saint-Aventin and Garin.
After Jean-Louis Ducassé who was President from 2012 to 2014, Francine Antona, a long serving board member since the early days with regretted spouse Jacques, is now leading the organisation. The festival is resolutely aimed at building the future, with an impressive number of devoted friends from multiple circles and, as always, under the artistic direction of Jean-Patrice Brosse.