Burgalays
Chapel of Saint-André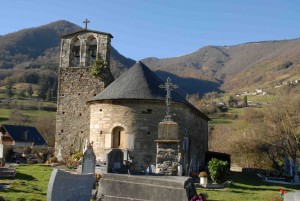 Below the village of Burgalys, stagnating peacefully on its own in the middle of a little cemetery, the chapel of Saint-André has an undeniable charm. Indeed, it is the oldest structure in the village. It has typically Romanesque form: the barrel-vaulted nave ends in a half-domed apse. As in traditional Romanesque churches, such light as enters is concentrated in the apse, which also serves as the chancel, from three semi-circular windows. The Romanesque period was fond of symbolism, especially concerning numbers. The three windows therefore naturally refer to the Trinity: for Christians, God is "three-in-one", the Father, the Son (who "took flesh" as Jesus Christ) and the Holy Ghost.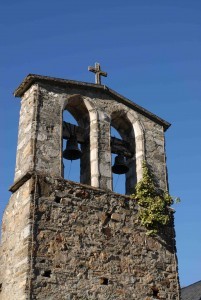 The Romanesque churches in the Comminges have two types of belfry, either square bell-towers or simple walls with openings where the bells are hung. In the chapel of Saint-André, the bell-tower has been transformed into a wall-belfry with paired or twinned openings. A carved stone in the form of a head has been re-used at the top of the belfry.
The porch is in white marble from Saint-Béat. A double voussoir arch over the door is supported by pilasters topped by imposts, slabs projecting slightly from the wall; here they are decorated with the stone spheres that are frequently used in Pyrenean Romanesque. The tympanum is not semi-circular but a plain rectangular slab on which is carved a hand offering a blessing and decorated with a cross and a Chi-Rho, the monogram for Christ, a Christian symbol whose origins go back to the 4th Century. Traditionally, the Greek letters X (khi) and P (rho) stood for Christ and S (sigma) for the word Soter, Saviour. Certain authors suggest an alternative explanation: the monogram may have been transformed into a symbol for the Trinity in the following centuries with the Greek X fot Christ, P Latinised for the Father (Pater) and S Latinised for the Holy Gost (Sanctus). Alpha and Omega were added, echoing the passage from saint John's Book of Revelations: "I am Alpha and Omega, the beginning and the ending, saith the Lord, which is and which was which is to come, the Almighty".