Saint-Plancard
Chapel of Saint-Jean-des-Vignes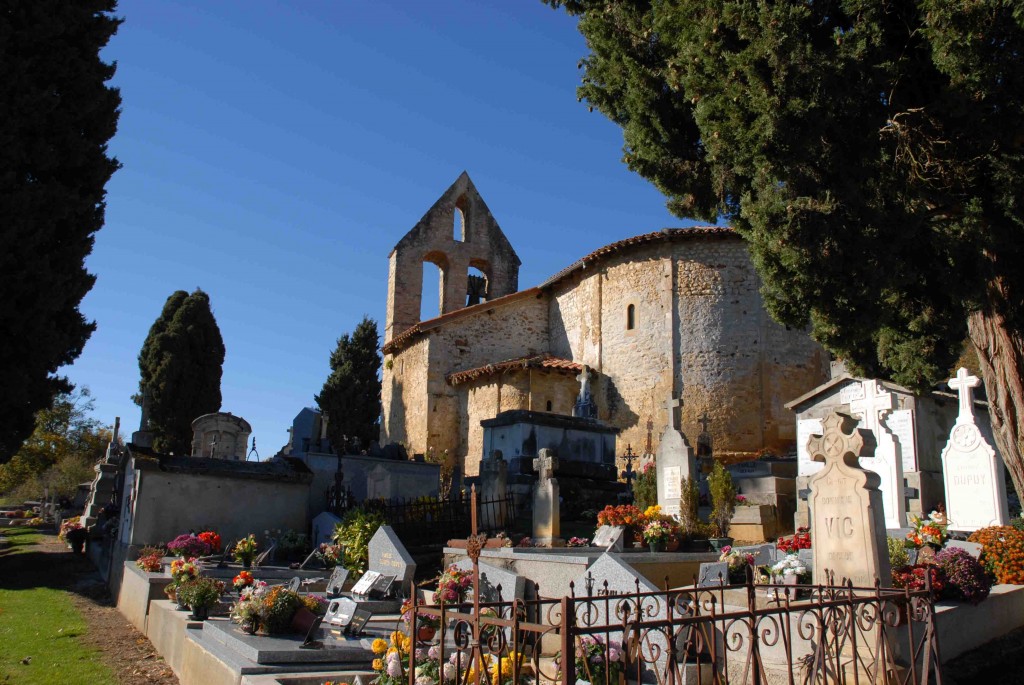 This 11th Centurychapel is built on the site of an earlier shrine,possibly dating back to the Visigoths, or even to pagan times, as foundations and other classical remains have been uncovered, such as the votive pillar to the local divinity Stugius, carved to resemble a warrior in armour.
The style of the building is pre-Romanesque, as can be seen by the use of rubble-stone, the winows cut straight through the full width of the apse wall and the single low transept arm leading to an apsidal chapel.
The wall paintings in the main apse are he oldest remaining in the Comminges (late 11th Century). The subject is Christ, and they are typical examples of pre-Romanesque inconography, with different scenes jusxtaposed.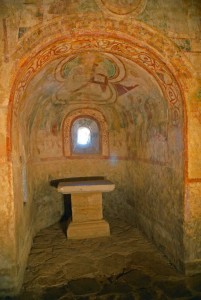 Above the central window is an Adoration of the Magi. To the left? Christ in Glory is surrounded by the four evangelists. On the right is an Ascention above a Crucifixion. The Heavenly City of Jerusalem and Hell face each other from opposite sides. The scenes chosen from the life of Christ correspond to major religious feast days(Christmas, Easter, the Ascention, AllSaints).
The paintings in the apsidal chapel are a little later and more thoroughly Romanesque in style. The artist was a master both of technique (with the play of light and shade) and style and in just a few pictures has conveyed some fundamental ideas. From the condition of the frescoes today we can imagine a richer range of colours. The archway leading into the apsidal chapel shows the hand of God, a symbol of the almighty, worshipped by two kneeling angels. On the wall beside the entrance, the painter has illustrated the Tempation of Adam and Eve as a reminder of the Original Sin washed away by the blood of Christ. On the vaulted roof there is a Christ in Majesty, here enclosed in an unusual composite shape. On the left-hand wall, John, the chapel's patron saint, appears before King Herod before being beheaded.