Binos
                                               Church of  Saint-Laurent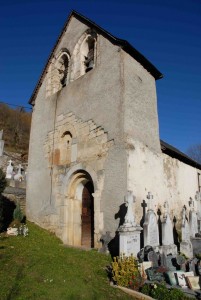 The church at Binos still has a 12th Century façade of dressed stone and a typically Romanesque narrow lancet window.
As is the case in several other modest Romanesque churches, the wall belfry is built as an extension of the West face, above the entrance. The doorway has some simple decoration: under the voussoir arches, the uprights of the door are decorated with a chequered or billet design. Small Christian crosses can be seen carved into the intrados, the inner surface of the arch.
A marble stone with a carved chrismon has been reused in the cemetery wall near the entrance gate.