Valcabrère
                                                  Church of Saint-Just and Saint-Pasteur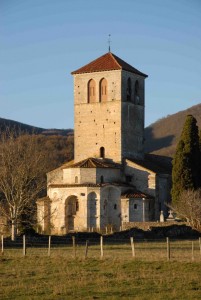 On the plain below Saint-Bertrand-de-Comminges just outside the village of Valcabrère stands the imposing church of saint Just. The cemetery, used as a necropolis since ancient times, is reached through a gateway built from a variety of materials: Latin inscriptions, a chrismon, capitals and more.
Building started on the church in the 11th Century using material taken from the ruins of the old Roman city nearby.
A stroll round the church shows the complexity of its volumes and the numerous reuses of building items, such as an ancient carving of theatrical mask.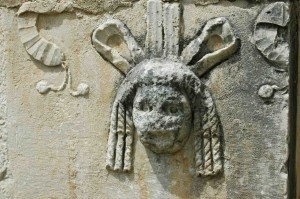 The apse is a fine and well-designed structure built from blocks of marble. Its overhangs and buttresses shelter the three apsidal chapels nestling against it.
The north doorway (late 12th Century) is the last great work of Romanesque art in the Comminges. The tympanum illustrates Christ in Majesty surrounded by the four evangelists; unusually: they hold their symbols in their hands. Their postures, with their heads turned towards Christ, contribute to the impression of his glory. The remaining space is taken by two small incense-bearing angels, cut off at the waist to fit the frame. Carved columns and their capitals frame the door: to left, st Pastor and possibly St-Helen. The monsters beneath their feet symbolize their victory over Evil and the capitals above their heads illustrate their martyrdom. The master-sculptor also carved the famous "evangelists pillar" in the cloister at Saint-Bertrand-de-Comminges.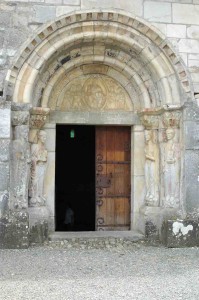 Stepping down into the church, the visitor senses both power and reverence. The church is built on a traditional plan (nave with side aisles), vaulted at a later date, with a multitude of reused items: pre-carved stones incorporated into the walls and square pillars, sculptures, columns piled on each other, capitals in varying styles. In the Apse, a 15th Century aedicule shelters the relics of the church's patron saints as well as a facsimile of the Act of Consecration in 1200.