Cazeaux-de-Larboust
Church of Sainte-Anne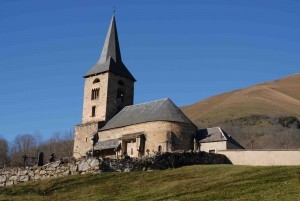 This church was built at the end of the 12th Century in the Early Southern Romanesque style: nave ending in an apse, very thick walls one of the most characteristic four-sided belfries in the Larboust Valley, very similar to the campaniles of Lombardy. On each floor of the belfry, the paired windows separated by slim columns are larger than on the level beneath. The building has been extended with the addition of a single side-aisle.
The Church is best-known for its series of frescoes from the extreme Late Middle Ages (15th Century) showing a strong devotion to the Virgin. The vault of the apse illustrates the Assumption of the Virgin. Mary is lifted up by two angelic musicians. One section of the decoration to the vault if the nave also shows the Crowning of the Virgin by the Holy Trinity (the Father, the Son and a Dove for the Holy Ghost).
In the lower part of the apse the paintings are dedicated to the story of the Nativity (with the Mother of Gods as the central figure) and to the Passion of Christ.
On the vaults of the nave, some scenes from Genesis: the Creation of Adam and Eve (in the presence of God the Father, depicted as an old man wearing a tiara), the Temptation, the Expulsion from the Garden of Eden and some scenes from the Last Judgement.