Marignac
                                                Church of Sainte-Marie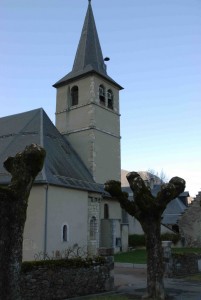 Funeral urns (that contained the ashes of the deceased) found around the church indicate that this was once a burial ground. Three examples remain of its Romanesque heritage, a ruined tower, visible from the road, the chapel of Saint-Martin and the church of Sainte-Marie in the centre of the village.
The church dates originally from the 12th Century,despite its appearance. First built as a single nave ending with an apse, it was lengthened and widened in the 19th century with the addition of two side aisles.
Like many other Romanesque churches in the Comminges, Saint Mary's re-uses fragments of earlier buildings. Two carved stones have been incorporated in the southern wall. The largest is a tympanum, probably 15th century but still in the Romanesque style. The posture of the central figure recalls that of Christ in Majesty, but the keys to paradise that he is holding show that it is in fact St Peter. In the Romanesque period, when the worship of saints was not yet as widespread as in the Gothic period, the sculptor would not have set a saint in the okace usually reserved for Christ. On either side of Peter, two medallions contain the Easter Lamb and the chrismon.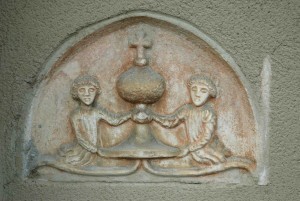 On the other stone the more primitive sculpture is no doubt earlier (12th Century) and seems to depict two figures holding up an outsize ciborium (the vessel that contains the Host). This is one if the basic principles of Romanesque sculpture and painting: the size of an object or a figure is usually proportional to its importance, to its role in the story or scene depicted.
On one of the capitals inside the church, the Biblical story of Herod's Feast is perceptible: Salome, surrounded by animals, wins the head of John the Baptist from her uncle Herod, as a reward for a dance.