Saint Gaudens
                                                               Collegial church of Saint-Gaudens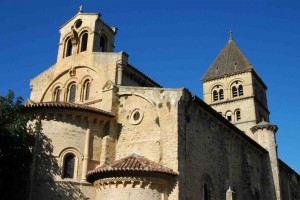 At the end of the 11th Century this church became the chapel of college of canons at the will of the bishop of Comminges, Bertrand de l'Isle.
Although it was extended and vaulted in the 12th Century, the collegial church is now heavily marked by late 19th Century restoration. The upper part of the belfry was rebuilt at this time a neo-Romanesque style. The principal entrance is through a flamboyant 16th Century Gothic porch, as the Romanesque doorway disappeared during the wars if Religion. A fine 12th Century chrismon has been reused in the gable over the doorway.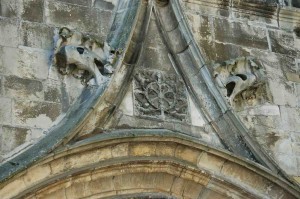 Inside the church, the galleries extend over only two bays of the nave, and only the capitals on the pillars of the choir are decorated with figures. One capital (facing the officiant) shows the Temptation of Adam and Eve and it is interesting to compare it with a capital in the cloister on the same subject. The first, carved at the beginning of the 12th Century, is in a style similar to that of Spanish Jaca school of the same period: stylized figures, fine but rather dry carving. The capital in the cloister (late 12th Century) shows a new search for more realistic proportions.
Not to be missed: the 18th Century tapestries from the famous royal manufactory at Aubusson, one illustrating the Triumph of Faith based on a painting by Rubens and another the Martyrdom of saint Gaudens.
The cloister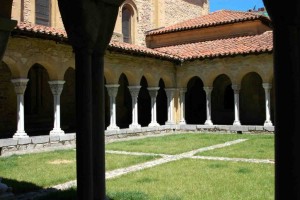 Work started on the cloister in the 12th Century and was finished during the following Century, completed by the building of the Chapter House which still stands beside it. The current cloister, however, was rebuilt in 1989, using authentic capitals or moulds taken from capitals which today have been dispersed in different collections around the world. The North and West galleries are in the Romanesque style with finely carved capitals from the last school of sculptors that worked at the college church in the 12th Century. The Eastern gallery is in the Southern Gothic style of the 14th Century.
A bas-relief moulding representing the Temptation of Christ in the desert has been incorporated into one of the buttresses of the college church.