Benqué-dessus
Church of Saint-Blaise
Once inside the cemetery you will notice a window with a lintel decorated with a mysterious disk apparently bearing a cross flanked by two doves. The sculpture is so primitive that it probably dates from the Romanesque origin of the buildings.
Inside the church, the choir contains the oldest paintings and the most remarkable treasures of the church of Saint-Blaise. The Passion of Christ is laid out in six scenes. The way the artist has treaded space and the figures with artificial angular folds in the cloth show that the artist was influenced by Flemish painting from the Gothic period.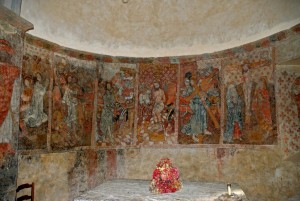 The paintings in the nave, less well preserved, represent scenes from the lives of Mary and her mother, Ann. To the left of the entrance door, in a scene represented the bird of Mary, Ann is surrounded by midwives and is lying in a canopied bed. In the painting beneath, the child is being presented to her mother after the birth. On the opposite wall there is a Nativity (Mary and Joseph kneeling beside the Infant) and an Adoration of the Magi. The nave and a part of the choir are also decorated with a series of saints who can be identified from their characteristics. From left to right: saint James as a pilgrim; st Michae slaying a demon; st Mary Magdalene holding a flask of perfume; st Catherine wearing a bodice and dress lined with ermine, holding a wheel and a sword; and st Barbara with a small tower.